Since a good part of the country is buried under snow today, how about a reminder that summer will (eventually) be back? Or will that just be rubbing it in?
This cheery event made the rounds on wedding blogs last summer and I think now is just about the perfect time to bring it back…
All images via my bride story wedding & events
Don't you feel warmer already?
If you really look at the materials that were used, you'll see that things were created fairly inexpensively for the event but still created a creative and cohesive theme. Of course, the flowers weren't cheap, but notice how large blooms were used in concentrated groupings – that will give you a lot of impact for your money. For more information from the wedding designer and planner who put this together, grab another cup of hot cocoa, curl up and click here.
A couple weeks ago I helped out with the planning for a bachelorette party for one of my very good friends. The party was held in Okoboji, a lake town in northwest Iowa. It's a fabulous summer getaway and the perfect atmosphere for a laid-back girls' weekend.
The bride-to-be's love of margaritas plus our destination easily led to our theme – Okobojiville!
My favorite part of the planning were making the invitations. I had far too much fun putting them together!
Gratuitious work station/Cricut shot.
The lake house we stayed at already had an interior that lent itself to the atmosphere we needed so the decor was limited; but here are a few shots anyway!
Customized margarita glasses for everyone!
And of course, we had fabulous margaritas! Warm weather may be coming to an end, but you should definitely find a reason to try these:
1 part tequila
1 part triple sec
3 parts non-alcoholic margarita mix
Splash of orange juice
The bachelorette enjoyed her weekend and all the guests had a blast!
Take a look at this dinner party that Kim from
Head of the Table
designed! Can't you feel the sun on your face and hear your friends laughing at your clever banter.
What a perfect color palette! Understated, but still fresh and summery. The white chiavari chairs and white
wine glasses are extra special details that especially make things pop. The custom table runner ties well with the striped menus.
Kim's company,
Head of the Table
provided the plates, glassware and flatware. They rent all kinds of fabulous placesettings that are wonderful if you're a little particular about party details. And just look how far just a few pieces can go! I emailed Kim quite some time ago to learn how she got started and she was as sweet and helpful as can be! If you're planning a party in the St. Louis area, be sure to visit
Head of the Table
!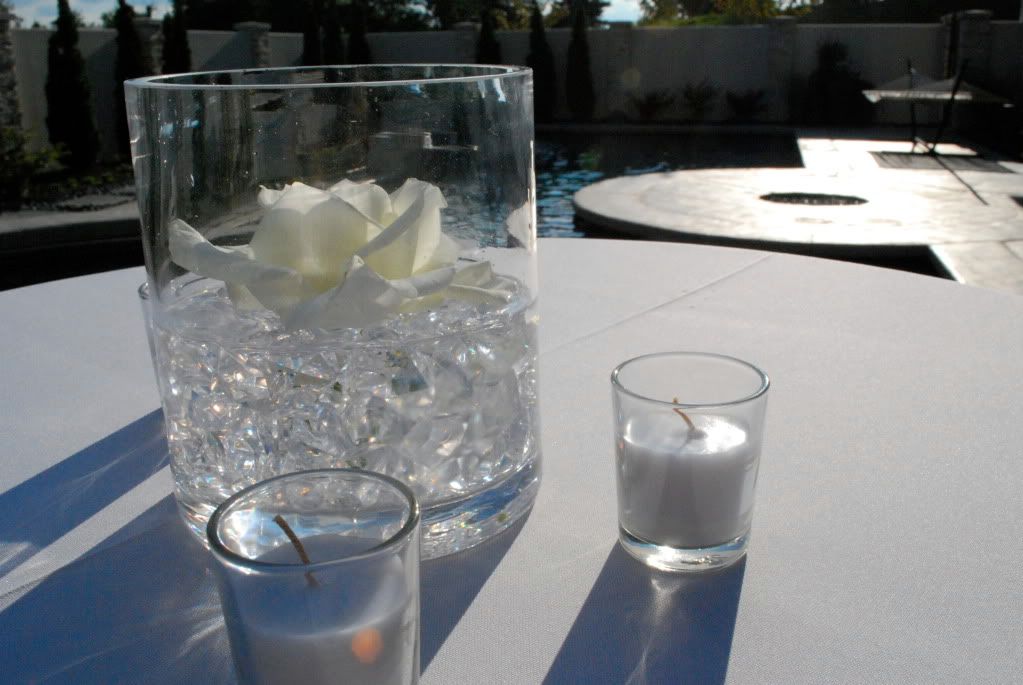 The candlelight must have been so lovely once the sun went down. (Don't forget to trim those wicks!)
Like Kim writes; this is so summer-chic that every party diva will be inspired to squeeze in just one more party by the pool…Count me in!